Jessica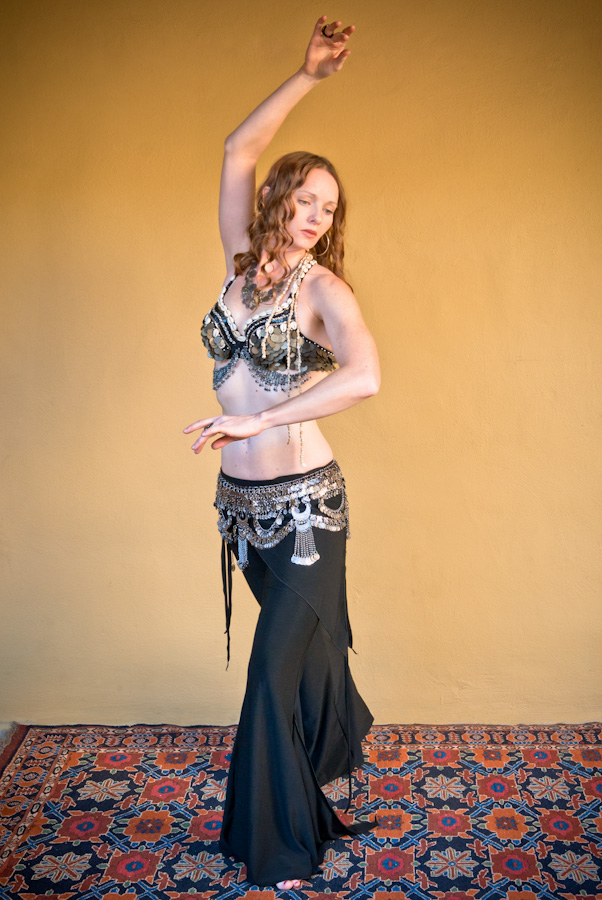 Jessica is the owner and creative director of Belly Dance Tucson. Jess was introduced to the art of belly dancing in 1996. She studied under her instructor for 6 years. She danced professionally with her dance troupe for 3 years. She has been teaching belly dance in Tucson since 2008.
During her studies she learned Egyptian Cabaret and Turkish style belly dance, Zills/Finger Cymbals, Sword, and Veil. As Jessica continued her studies she focused on learning tribal fusion style belly dance and most recently UNMATA format ITS.
Jessica's classes have a strong emphasis on proper form and technique and are designed to build coordination, strength, and stamina. Throughout her dancing experiences Jessica has learned that the particular "style" one practices in this art isn't as important as proper technique. Jessica's focus is to help you train as a dancer while educating you on stylistic options so that when you as a dancer evolve in your practice you may decide which style(s) you would like to dance.
Jessica has continued to further her dance education by taking workshops with Rachel Brice, Zoe Jakes, Mardi Love, Mira Betz, Amy Sigil, Heather Stants, and Suhaila. Jessica has completed the 50 hour Tribal Massive Professional Instructor Training, Amy Sigil's level 1 UNMATA Format ITS, and Suhaila Salampour's level 1 and 2 teacher certification. Jess has hosted and studied with Ashley Lopez, Amy Sigil, and Karim Nagi. She is currently focusing her continuing education with Amy Sigil and Suhaila Salampour.
In addition to dance Jessica has been a certified group fitness instructor since 2004. She is certified through the American Fitness Association of America (AFAA). She is a certified Spin instructor, certified through MADD Dog Athletics. and is also a certified Body Pump instructor, certified through Les Mills. Jessica has taken many continuing education classes in group fitness instruction in addition to the above certifications.
Jessica has been a licensed massage therapist since 2000. Much of her teaching style comes from her understanding of the body through her experience as a massage therapy professional as well as her experience in the fitness industry.
Jessica's hope is to teach her students how to be well trained dancers and inspire them to find their own style and expression through the art of Belly Dance while passing on belly dance history and education.