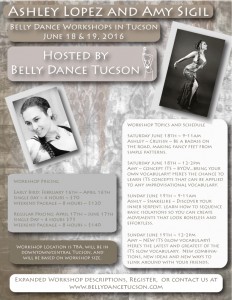 Ashley and Amy will be here for two days teaching from their unique toolboxes. Space in the workshops is limited so reserve early! Workshops will be downtown/central Tucson. Exact location is TBA.
Workshop Descriptions and Schedule
Saturday Workshops :
Ashley Lopez 9 – 11am ~ Cruisin': Traveling with Style
Gearing up for a smooth ride.  Standing in one place doing a fabulous chest circle certainly has its place, but what about when you try to move around or turn with those isolations, shimmies and shapes?  Be a badass on the road, making fancy feet from simple patterns, layering footwork, smooth turns, rumbling shimmies, and sharp stops.  This workshop is a study of beautiful technique that goes somewhere.  Riders, start your engines.
Amy Sigil 12 – 2pm ~ Concept ITS!
BYOV…bring your own vocabulary!  Here's the chance to learn ITS concepts that can be applied to any improvisational vocabulary.  We will decode the secret language of improvisational staging, team synchronization and everything that makes a group tick.  Exercises for all improv dancers or dancers just interested in having the skill to "jump-in"!  Bring your spirit of teamwork, some movements to share with the group and an open mind!
Sunday Workshops:
Ashley Lopez 9 – 11am ~ Snakelike
Discover your inner serpent.  The signature movements in belly dance mean fluidity in motion: undulations, circles, and figure-eights.
This workshop will help you learn how to sequence basic isolations so you can create movements that look boneless and effortless.  You will practice drills that will help you build the strength and coordination needed to execute fluid body rolls, awe-inspiring belly rolls, succulent hip circles, fluid upper body shapes, and graceful arms.  Rest assured, there is no magic potion to these techniques…you can master any of them through simple exercises and strengthening your muscles.
All levels welcome (some belly dance experience strongly recommended).  Different options will be offered for both beginning and advanced students.  Please come prepared a hip scarf, comfortable clothing and water!
Amy Sigil 12 – 2pm ~ NEW ITS (slow vocabulary)!
All the new stuff is coming your way!  Here's the latest and greatest of the ITS slow vocabulary.  New combinations, new ideas and new ways to slink around with your friends.  When people ask me what my favorite ITS move is I'm the first to say…"the new one".  Come check it out!
Workshop Pricing and Registration
Early Bird Pricing ~ February 16th ~ April 16th
Single Day ~ 4 hours ~ $70
Both Days ~ 8 hours ~ $120
Regular Pricing ~ April 17th ~ June 17th
Single Day ~ 4 hours ~ $75
Both Days ~ 8 hours ~ $140
All sales are final workshops are non refundable.